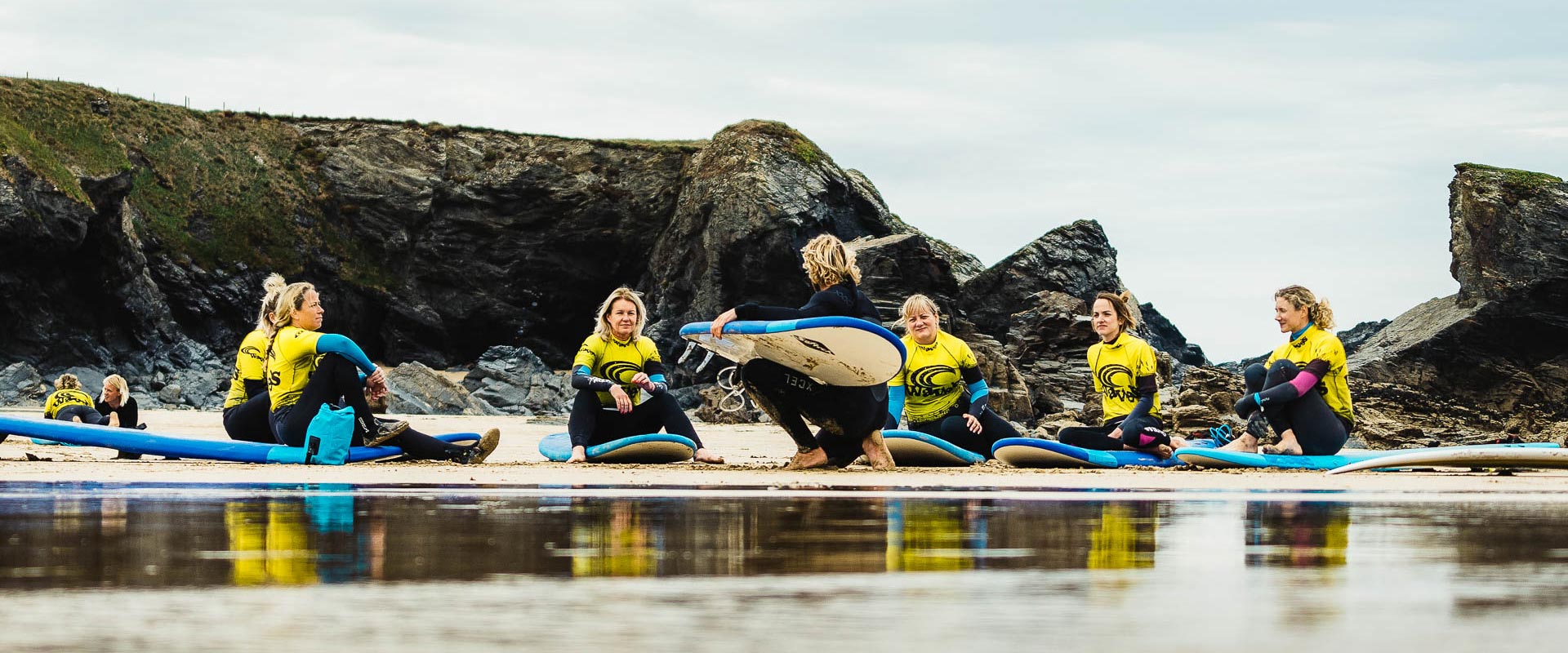 Come & join us at Waves Surf School if you really want to learn to Surf.
Waves Surf School was established in 2004 however, members of the team have been coaching since the mid 1990's and have a wealth of surfing knowledge to share with you from the thirty plus years of experience they have of surfing around the world.
At Waves Surf School we use our experience to offer you innovative teaching methods and small student to instructor ratios to ensure all our clients develop their surfing skills in a safe, personal and fun environment.  Sign up to a group lesson with Waves and learn to surf with our professional qualified team of coaches…..whatever your age or ability we have the right session for you.
Our motto is simple. Find you the best surf, provide qualified professional instructors, deliver the best instruction, supply you with the latest equipment and have fun safely!!
Not just any surf school !
Priding ourselves on being different to the larger surf schools, we cater for all ages and abilities. Just ask one of the many surfers we have taught to surf over the last 15 years, many of whom still return to Waves Surf school year upon year to develop their skills and enjoy that adrenaline buzz only a great surf can give.
At Waves Surf School we choose the beach which will offer you the best waves on any given day.
Being a mobile surf school we are licensed to teach at a selection of beaches within the locality.  This flexibility allows us to choose the right beach for the surf and the tide for you, and ensures we rarely have to postpone our sessions as there is normally a wave somewhere.
Through reputation, recommendation and a clear track record of safe operation Waves Surf School is recognised as the number one surf school within the locality of St Merryn and Padstow. It is the number one choice for locals, even offering a kids clubs and a ladies club for those that live within the area.
If you are over eight years old and can swim 50 metres then lets go surfing!
Waves Surf School is licensed by Cornwall Council and is approved by Surfing England.
At Waves Surf School the owner and ISA level 2 head coach, Windy, is always on hand to give that personal touch and quality that other schools don't always provide. We remain hands on during your lesson to maximize your surfing skills and provide constant safety cover.  You won't see our coaches free surfing through your lesson! At Waves Surf School we are proud to specialise – we teach surfing and surfing only, concentrating on surf tuition to the best possible level and guarantee you will find the whole experience an exhilarating one!
In addition to being ISA qualified and trained beach lifeguards, our coaches are committed to constantly improving your surfing in a safe environment. Their enthusiasm and passion for surfing is absorbing and totally infectious. Throughout your lessons they will be right there giving you the tips and encouragement to achieve the aspirations you only dreamt of!  Whatever level of coaching you require, from a beginners taster session to advanced competition techniques and video analysis, Waves has the perfect coaching session for you!
Whether you are looking for a great family activity on one of our local, beautiful beaches or just looking for surfing tuition for the children, your school, a group of friends or corporate event, then you've come to the right place.
Windy launched Waves Surf School in 2004 with Bev. Windy was born and bred in St Merryn near Padstow, Cornwall, and has 30 plus years of surfing knowledge and experience of the area. He is a ISA Level 2 accredited coach, the highest level available.  He has been a qualified beach lifeguard since the age of sixteen and a qualified surf coach since the mid 1990's. He has lifeguarded on the beaches surrounding St Merryn on the North Cornish coast for the Council and the RNLI, as well as on the Northern beaches of Sydney, Australia.  He is a passionate surfer who loves nothing more than to go surfing here or abroad at any opportunity he can get and is always looking forward to the next wave.
Bev is a highly motivated surf instructor. She is an ISA level 1 coach and a qualified beach lifeguard.  She has over 10 years of coaching experience.  She loves nothing more than to be out in the water, riding her short board or cruising on her longboard. When she's not busy coaching or surfing she also runs her own Made in Cornwall swimwear label Salty Vault Swimwear.
Cal is a young and experienced ISA Level 1 surf coach who has grown up in Cornwall.  He has been surfing since the age of 5 when is dad started taking him out and teaching him.  As a junior and a teenager he developed his surfing with Waves Surf School coaching sessions.  He is a ISA level 1 surf coach and a qualified beach lifeguard.  He has been involved with Waves Surf school as a coach for a number of seasons.  He is a very keen surfer and travels whenever possible and is just back from surfing in Australia and Indonesia.